1984
25th – 28th May 2022
April 4th 1984, when the clock struck 13.
Winston Smith is trapped inside a society that monitors everyone, even their thoughts. He meets Julia, a young woman who will help him to overthrow the party.
They find O'Brien, a member of the Inner Party, intent on helping them to follow through with their plan.
Lies. Untruths. Corruption. Thought Crime. Surveillance. Mistrust. Propaganda.
George Orwell's Classic has never been more relevant.
Big Brother is watching.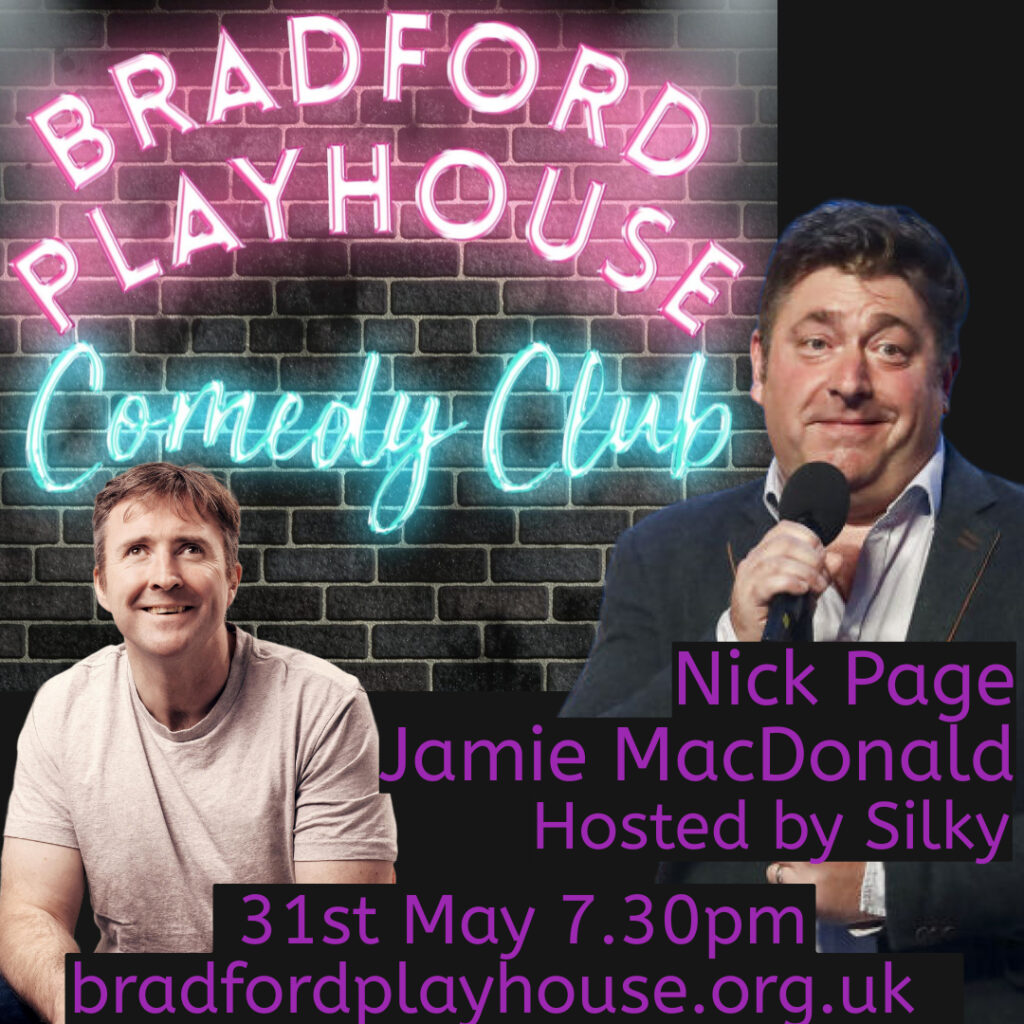 Bradford Playhouse Comedy Club
31st May 2022
compered by Silky and starring some of the brightest and best comedians in the UK.
Nick Page (Britain's Got Talent)
Nick Page is a seemingly indestructible, larger than life, award winning English comic whose life is a series of disasters somehow turning into unlikely triumphs. No gimmicks, no PowerPoint, no props and no flipcharts. Just stories and belly laughs with a master of his art.
English Comedian of the year 2017- Winner
' Rogueish, bear-like, and with a host of tales about love, life, and brushes with the law' Guardian
' funny, cathartic, and very entertaining' Broadway Baby
' a joy to behold' The Skinny
Jamie MacDonald (Star of BBC2's Blind Ambition & BBC R4's Life On The Blink)
Jamie Mconald has TV and Radio credits aplenty with his own BBC Radio 4 series, Life On The Blink, his BBC Sounds comedy special, Blind-sided, and BBC Two's Blind Ambition which he co-presents.
He has also appeared on BBC Radio 4's Fred at The Stand and Rosie Jones: Box Ticker, and BBC Radio Scotland's Breaking The News and The Good, The Bad & The Unexpected. Jamie became the first blind comedian to be on a TV panel show when he was on the TV version of Breaking The News on BBC Scotland.
'Consistently hilarious' Ed Fest Magazine
'Pure wit and confidence' The Skinny
Final act TBC
The Wedding Singer
15th -18th June 2022
The Bradford Players present The Wedding Singer. Based on the film starring Adam Sandler and Drew Barrymore a hilarious musical comedy that celebrates all the fun of the 80s. Hair is big, collars are up and it's packed to the brim with feel-good moments that will make you smile.
It's 1985, Robbie Hart is New Jersey's favourite wedding singer and is the life of the party until his own fiancée leaves him at the altar. Bitter and broken Robbie begins to make every wedding as disastrous as his own until a warm-hearted waitress named Julia intervenes. Only trouble is Julia is about to be married to a Wall Street shark, and, unless Robbie can pull off the performance of a decade, the girl of his dreams will be gone forever. Come join the party!
Bradford Playhouse Comedy Club
28th June 2022
compered by Silky and starring some of the brightest and best comedians in the UK.
Nina Gilligan
Sometimes outrageous, always hilarious, observational and storytelling comedy for all.
A persona you will fall in love with.
Award-winning comedian Nina Gilligan exploded on to the comedy scene in 2011 and is now a regular on the UK circuit, performing at clubs and venues all over the UK. She is now also proving to be a success on the after dinner and sporting dinner circuit.
Over the past few years, Nina has been a finalist in Hilarity Bites, Breaking Acts, Kill for a Seat and Real Radio XS Judged.
A bolshier Mrs Merton, she's not one to suffer fools lightly – so watch out for a razor sharp wit used at will. Her act will leave you shouting for more!
Catherine Young
Winner of the Hilarity Bites New Act of the Year 2019. Catherine occasionally absconds from Middlesbrough and the general misery of life, by running round the UK comedy circuit looking for anyone who will listen to her.
Final act TBC
Bradford Playhouse Comedy Club
26th July 2022
compered by Silky and starring some of the brightest and best comedians in the UK.
Ben Norris (Mock The Week, Never Mind The Buzzcocks)
Ben is a highly experienced and hugely well-respected stand-up. He's been performing comedy since 1993 and is renowned for his incredibly relaxed stage persona and his innate ability to improvise as well as deliver sharply crafted material.
"KILLER GAGS" The Scotsman
"Impressively dark surrealism…" Evening Standard
Lou Conran
Cheeky, quick off the mark and side achingly funny..
Having trained as an actress at The Oxford School of Drama in the 90's, she's gone on to craft her career as a comedian – A high energy storyteller with an instinctive wit that has been wowing audiences and industry alike over the last 15 years.
Lou is renowned on the international comedy circuits for her compere and hosting skills as well as being a favourite tour support for the likes of Sarah Millican, Joe Lycett, Suzi Ruffell, and Puppetry of The Penis.
".. If you go and see her, you'll quickly realise there's no one else you'd rather spend an hour with! Reboot Absolutely Fabulous immediately and stick her in it, please!" – Joe.co.uk
'".. Masterful at owning a room.." – Fringe Review UK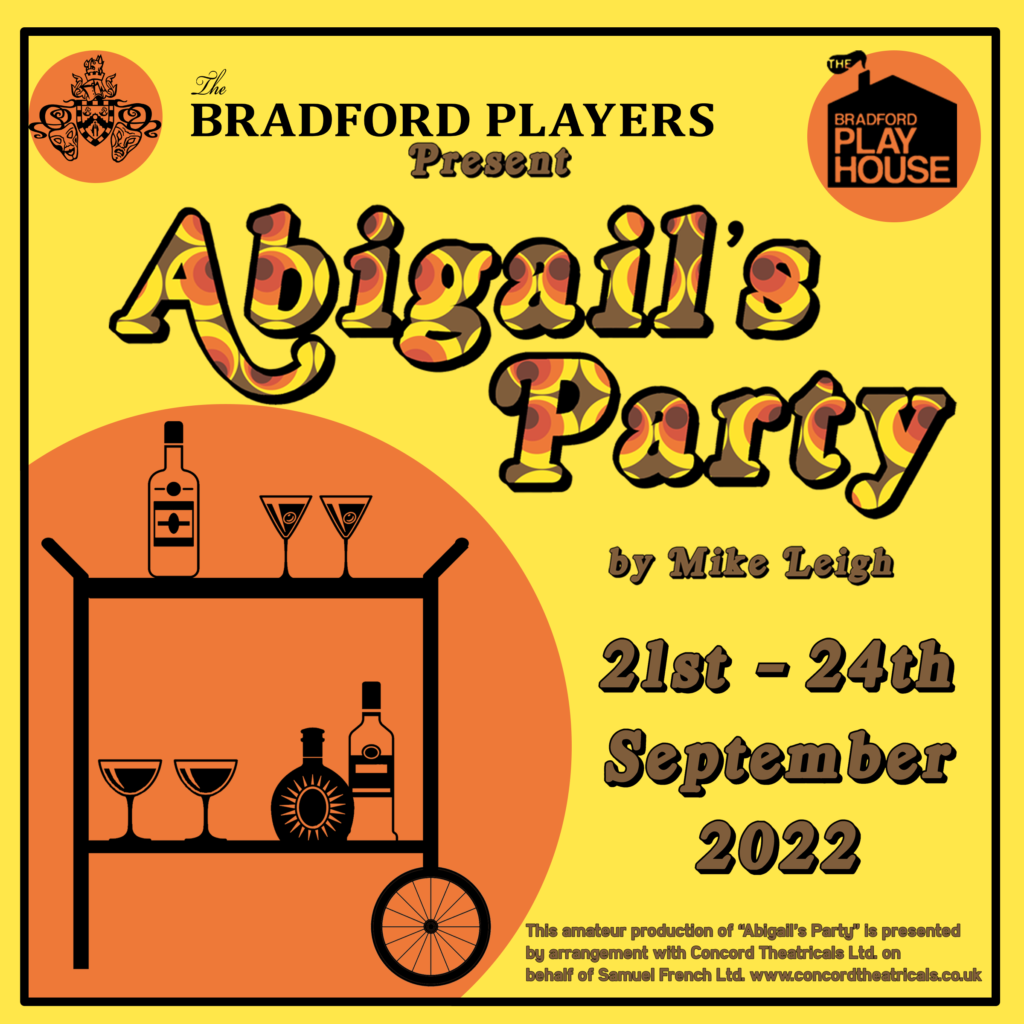 Abigail's Party
21st-24th September 2022
The Bradford Players present the iconic comedy Abigail's Party written by Mike Leigh. Beverly and estate agent husband Laurence are happily ensconced and living the dream in suburbia. They know what records to play, what art prints to buy and what wine to drink, and Beverly just can't resist the temptation to spread her knowledge and help improve the lives of their neighbours Tony, Angela and Abigail's Mum, Susan. What better way to help out than to invite them all for drinks and titbits!
It's the ultimate 1970's comedy of manners as new-found suburban pretensions emerge and social aspirations abound. Sit back and relax as the gin is poured, the cigarettes are lit and Demis Roussos hits the turntable forever and ever. It's the party to end all parties and you're all invited!
Snow White and the Seven Dwarfs
17th-29th December 2022
Trio Entertainment in association with Bradford proudly present the fairest Panto in the land – Snow White and the Seven Dwarfs!Mirror, Mirror on the wall, which is the most spectacular pantomime of all? Join Snow White in her fairytale adventure of a lifetime. Will Prince Ritchie rescue his beloved Snow White from the Wicked Queen's evil spells? Will the Henchman complete his perilous task upon the Princess? Will the Seven Dwarfs get to the poisoned apple before Snow White?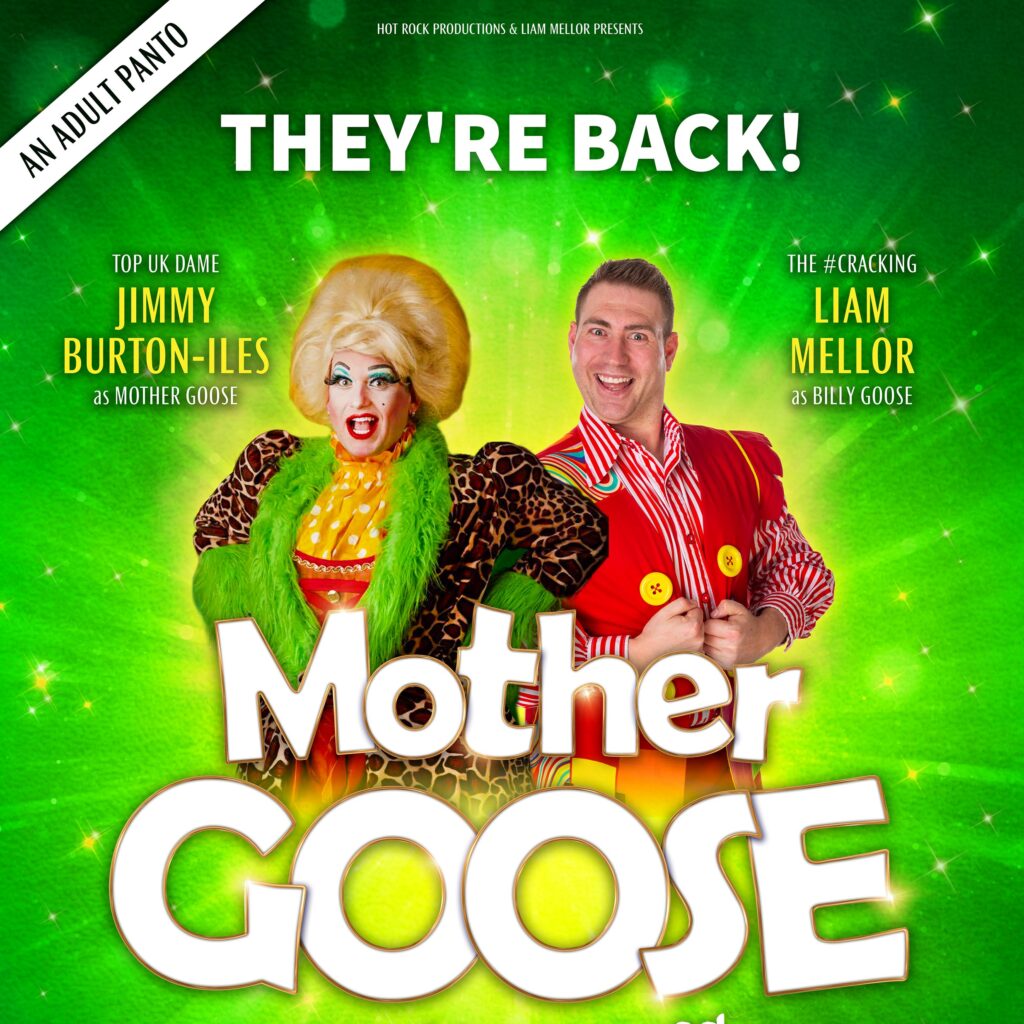 Mother Goose… Cracks one off.
12th May 2023
Adult Panto is back! Now in its 5th year. Liam Mellor & Hot Rock Productions with Mother Goose… Cracks one off.
Starring Adult Pantomime legends, the #cracking Liam Mellor as Billy Goose, and the fabulously filthy Jimmy Burton-Iles in the title role of Mother Goose.
Will Mother Goose get glamour, fame, and fortune? Will Demon Vanity rule the world? And will Billy finally get to shag the Princess!
Find out in our fun and filthy Adult Panto for all you BIG boys & girls, so leave the kids at home and grab your tickets for this filthy night out!
Due to high demand early booking is recommended.
Suitable for 16 plus years