Bradford Playhouse Comedy Club
Tue 30th August 2022
compered by Silky and starring some of the brightest and best comedians in the UK.
Paul Tonkinson
A sensational live performer, Yorkshire man, marathon runner and former (double award-winning) Time Out Comedian of the Year, Paul Tonkinson has long upheld his esteemed reputation as one of the finest stand-ups the UK has to offer. With a unique and distinctive style, Tonkinson is noted for his effervescent physicality and skillful impressions, which bring alive exuberant, tender comic reflections on love, family and the day-to-day idiosyncrasies of 21st century living. A plethora of first class material, combined with tremendous charm and irrepressible, infectious energy make for quite a formidable talent. Paul never fails to make his audience roar with laughter.
"Hilarious; nobody makes me laugh like Paul Tonkinson…Go see him!" Michael McIntyre
"Brilliant" The Independent
"Very funny" The Mirror
"Excellent… extremely talented… brilliant". Time Out
Daisy Earl is a rising star in comedy and circuit favourite. A Scottish Comedian of the Year, Scottish Variety Award and Chortle Best Newcomer Winner and tour support for Jason Manford, John Bishop and Tom Stade.
Daisy has appeared on BBC Comedy Underground, BBC Radio 4 Best of the Fest, BBC Scotland's Breaking The News and at top comedy clubs and festivals both in the UK and internationally.
'Crisp storytelling talent and self-deprecating humour, a rare cunning, defiant attitude. Hilarious' Chortle
'An incredibly likeable comedian with an obvious talent for bringing a room along with her' The Wee Review
'strikingly honest and hilarious'- Huffington Post
'memorable and perceptive stories' – The Skinny
Plus supports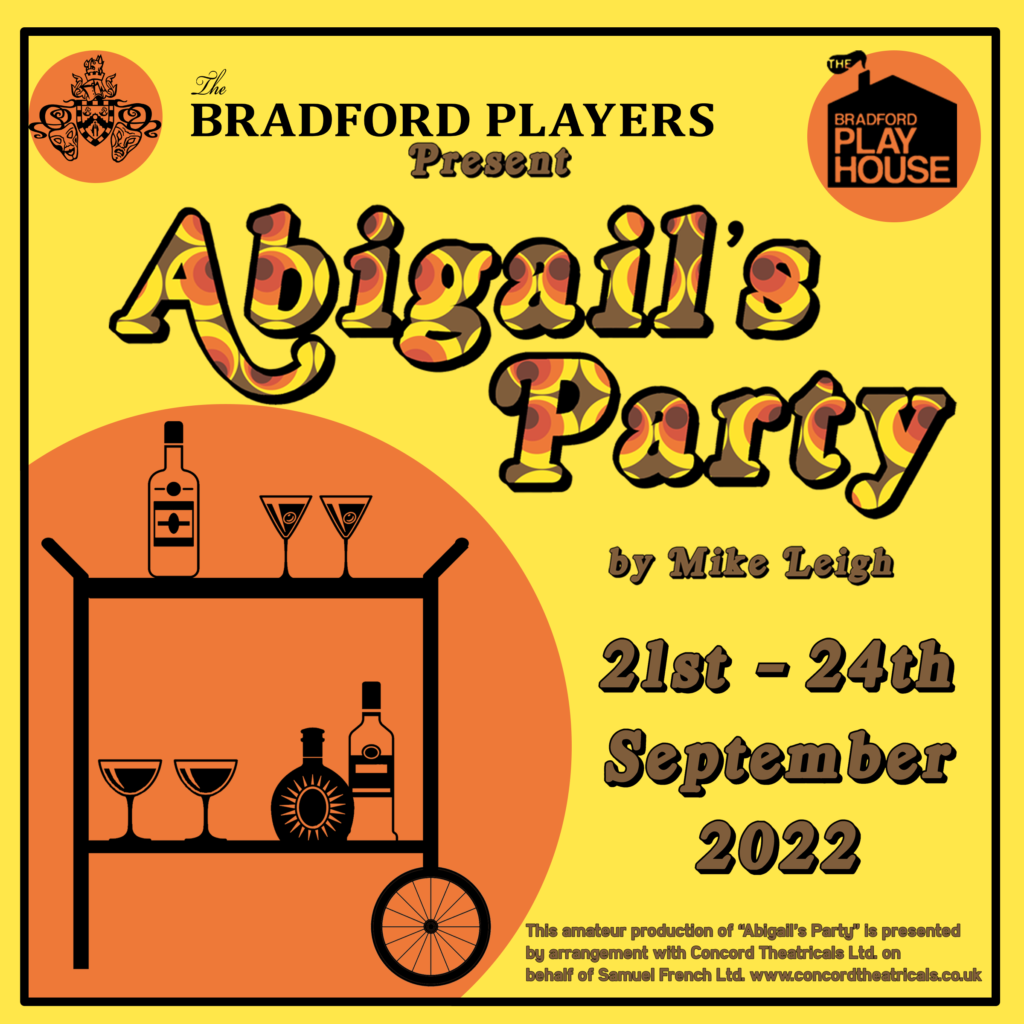 Abigail's Party
21st-24th September 2022
The Bradford Players present the iconic comedy Abigail's Party written by Mike Leigh. Beverly and estate agent husband Laurence are happily ensconced and living the dream in suburbia. They know what records to play, what art prints to buy and what wine to drink, and Beverly just can't resist the temptation to spread her knowledge and help improve the lives of their neighbours Tony, Angela and Abigail's Mum, Susan. What better way to help out than to invite them all for drinks and titbits!
It's the ultimate 1970's comedy of manners as new-found suburban pretensions emerge and social aspirations abound. Sit back and relax as the gin is poured, the cigarettes are lit and Demis Roussos hits the turntable forever and ever. It's the party to end all parties and you're all invited!
Bradford Playhouse Comedy Club
Tue 27th September 2022
compered by Silky and starring some of the brightest and best comedians in the UK.
Isma Almas is British multi-culturalism at its best: Bradford-born and a childhood split between Pakistan and Yorkshire.
Isma's comedy is fused by her unique take on life as a British Muslim woman.
As well as regular circuit gigs at comedy clubs across the UK, Isma has performed solo shows at the Edinburgh Fringe, at London's Barbican Centre for Stonewall, at Bradford's Literature Festival and on a raucous luxury gay cruise around the Med
"a lot of charm, with a gentle Yorkshire accent and an engaging character that's mumsy and mischievous at the same time." The Skinny
"a natural at teasing out the underlying humour from the real-life stories" Chortle
"A one-woman antidote to Islamophobia" Leeds Guide
Dan Thomas has been performing as a stand-up since 2005, turning full time in 2010, when he was a finalist in the Welsh Unsigned Stand Up Awards and the Loaded Laftas. The following year Dan supported Russell Kane on his national tour of Smokescreens and Castles. Dan also works in TV warm-up for shows including Deal Or No Deal.
Plus supports 
Bradford Playhouse Comedy Club
Tue 25th October 2022
compered by Silky and starring some of the brightest and best comedians in the UK.
Hayley Ellis is a Comedian, Actress and Human being. She has appeared in loads of dead prestigious joke lists. Such as:-
The Independent "Edinburgh Fringe: 25 funniest jokes of all-time"
The Mirror "Edinburgh Fringe: Best 21 jokes told at the festival in the last decade"
Wow247″50 of the best ever jokes at the Edinburgh Fringe"
Hayley is a former regular sight gag contributor for the Russell Howard's Good News television programme. and has appeared on MTV's "Why aye love Geordie Shore" and "Comedy Set Lists" for Virgin television. She can also sometimes be heard on your wireless. and her sketches and jokes have appeared on Newsjack.
"Brilliantly funny and a joy to watch" – Sarah Millican
"Sharp, clever, and very funny" – The Sunday Post
"An original and very funny lady" – Funny Women
"A great Hour of stand-up" Northern Soul
'Warm and engaging, she's a refreshing dissenting voice in the current female trend of twee, patchwork niceties'
viewsfromthegods.co.uk
"Hayley Ellis is fast becoming Manchester's Funniest female"
Steve Wright, Radio 2
"Destined for comedy greatness. Don't be surprised if you see Hayley Ellis on your TV soon, and I don't mean on Crimewatch. One of the hottest comedy prospects going."
Jim Salveson, Producer XFM Manchester Breakfast Show
Louise Atkinson is a comedian, writer and drunken robotics enthusiast. Originally from the cultural delights of Hull, she now lives in London and spends most of her days uttering the words 'How much!?! ' in most London establishments.
Louise has quickly established herself on the comedy scene as one of the ones to watch for the future.
Louise 'can certainly breathe life into any story' (Steve Bennett – Chortle), is very engaging to watch and has a "A strong flavour of Victoria Wood" (Bruce Dessau.)
Plus supports
Bradford Playhouse Comedy Club
Tue 29th November 2022
compered by Silky and starring some of the brightest and best comedians in the UK.
Nina Gilligan Sometimes outrageous, always hilarious, observational and storytelling comedy for all.
A persona you will fall in love with.
Award-winning comedian Nina Gilligan exploded on to the comedy scene in 2011 and is now a regular on the UK circuit, performing at clubs and venues all over the UK.A bolshier Mrs Merton, she's not one to suffer fools lightly – so watch out for a razor sharp wit used at will. Her act will leave you shouting for more!
Mike Wilkinson started his career by reaching the finals of the So You Think You're Funny new act competition in 2000 and being a finalist of the City Life Comedian of the Year for North West acts the following year.
Now he's a regular on the circuit and has supported such comedy greats as Peter Kay, Johnny Vegas, Ross Noble, Dave Spikey and Jason Manford on their UK tours and has been a member of the Comedy Store's Manchester-based topical improv group Men at Work.
Overflowing with down to earth Northern charm, Mike has a wonderful laid-back style. The laughs come thick and fast with Wilkinson's dry humour and razor sharp wit…but hecklers beware, that cheeky grin can lash out and crush a heckler at lightening speed.
As well as being very funny, Mike is also a talented musician and plays the piano and guitar. When he's not killing it on the comedy scene, he can be found working on his farm rearing his own hens, and often brings a gift of a few fresh eggs to the show.
Plus supports
Snow White and the Seven Dwarfs
17th-29th December 2022
Trio Entertainment in association with Bradford proudly present the fairest Panto in the land – Snow White and the Seven Dwarfs!Mirror, Mirror on the wall, which is the most spectacular pantomime of all? Join Snow White in her fairytale adventure of a lifetime. Will Prince Ritchie rescue his beloved Snow White from the Wicked Queen's evil spells? Will the Henchman complete his perilous task upon the Princess? Will the Seven Dwarfs get to the poisoned apple before Snow White?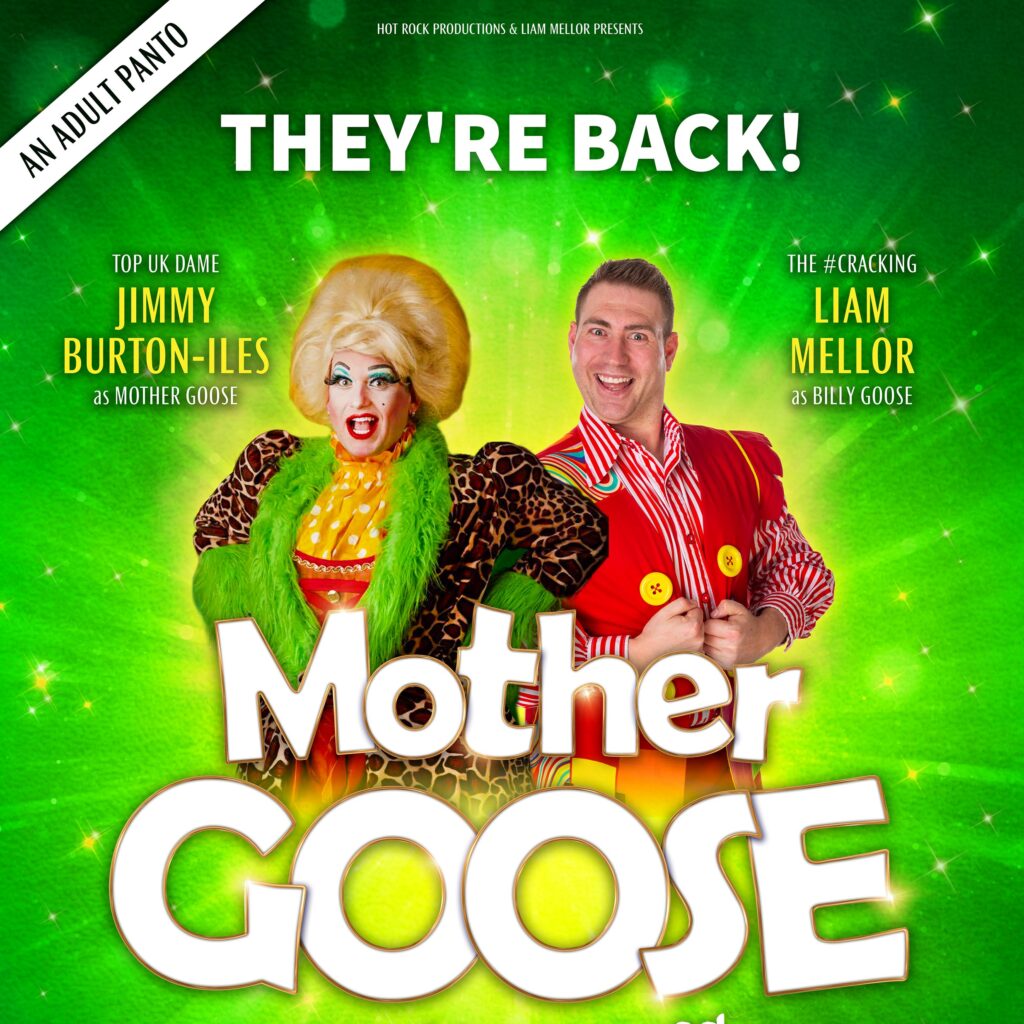 Mother Goose… Cracks one off.
12th May 2023
Adult Panto is back! Now in its 5th year. Liam Mellor & Hot Rock Productions with Mother Goose… Cracks one off.
Starring Adult Pantomime legends, the #cracking Liam Mellor as Billy Goose, and the fabulously filthy Jimmy Burton-Iles in the title role of Mother Goose.
Will Mother Goose get glamour, fame, and fortune? Will Demon Vanity rule the world? And will Billy finally get to shag the Princess!
Find out in our fun and filthy Adult Panto for all you BIG boys & girls, so leave the kids at home and grab your tickets for this filthy night out!
Due to high demand early booking is recommended.
Suitable for 16 plus years